Fast
Street Legal Track Car Aston Martin Vulcan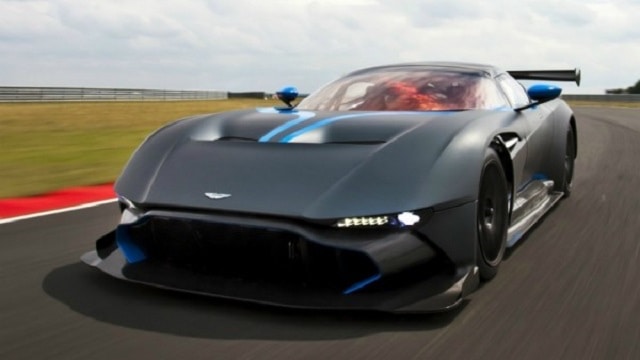 Aston Martin has unveiled its latest supercar track called Vulcan. Public debut of the car was held at the Geneva Motor Show. The model will be produced in a limited edition of 24 copies.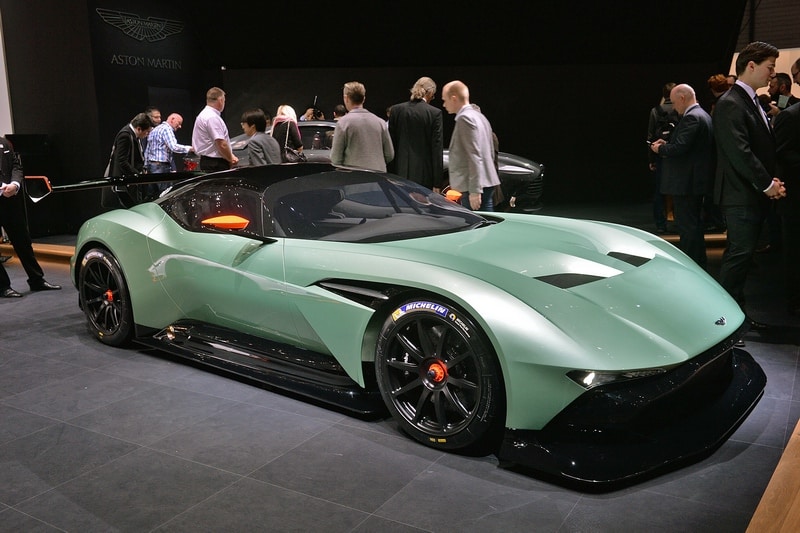 Sports car will have a unique front bumper with a massive grille, which is integrated into the front splitter. Vehicles equipped with monocoque carbon fiber, limited slip differential and Brembo braking system with 380 mm and 360 mm carbon-ceramic discs racing. In addition, new suspension kit with adjustable shock absorbers and stabilizer bars.
Under the hood of the car is set 7.0-liter "aspirated" V12. Engine power is more than 800 horsepower. The motor works in conjunction with a six-speed sequential gearbox.
Rumors that the new car will have only track version, yet were true, and Aston Martin Vulcan, obviously, will be legally belong to this category, judging by the huge rear wing and the lowered body with side exhaust pipes. According to experts this model is designed as a competitor for McLaren P1 GTR and Ferrari FXX K, and its production will be limited to less than 30 units.
It is possible that there will be used the powerful engine V12. That's because the rumors say much more aerodynamic and light body structure obtained through the widespread use of carbon fiber, aluminum elements, asceticism interior cabin and other measures to save the car's weight.
Customers of Aston Martin Vulcan are likely to benefit from the introduction of the program, which is actively used for P1 McLaren GTR and Ferrari FXX with their K, built on the platform LaFerrari. This means that Aston Martin will keep cars in their warehouses, and customers will be able to drive them in specially organized for these sports.
Aston does not caricature cars, but Vulcan knowingly violates all bounds. The height of the machine is only 1186 mm. This is the lowest Aston, lower than the One-77, below all the racing cars. And it is long. Aft is huge, ridiculous, unmatched wing. Roof and windows are merged into a single "light."
Yes, Aston deliberately chose futurism. This hero of science fiction, but unlike DP100 it is real. At least as far as can be real special series Track and a half million pounds per car. In other words, together with the concept of CC100 and mega sedan Lagonda Taraf, Vulcan – the bridge between today's and tomorrow's Aston. It takes pleasure unthinkable twenty-four lucky and makes us get used to the new design language. This laboratory capacity is 800 horses, which secrete distillate Vantage 2018.
In this case, the relief is a pure evolution Vanquish. The ribs are found on the door and go in outstanding hip. Vulcan has beautiful waist and behind the front arch – inverted shark fin. Its function is not to increase the pressure in this area.
Side exhaust pipes not only promise to visual and sound effects, but the stern and purified from unnecessary flow to the diffuser to work without interference.
Vulcan have the same carbon-fiber monocoque, that of the One-77, but it is so modified that it can be considered a new design. Everything is made of carbon fiber, including the roof, and Vulcan woven roll cage FIA. In fact, the car meets all the criteria for amateur racing championship, except one: since all participants are placed on equal footing technical standards, it will be out of competition.
Employees of the authoritative British publication Autocar managed to test at Silverstone one of the craziest and most exclusive cars ever built – a track coupe Aston Martin Vulcan.
We remind that long-awaited "hot" coupe Aston Martin Vulcan will be released strictly in limited edition, which will not exceed thirty units. The British brand has positioned extreme novelty as a competitor of such hypercars as McLaren P1 GTR and the Ferrari FXX K.
As a reminder, we can say that the same experts who developed the British brand cars to participate in the daily marathon 24 Hours of Le Mans have been working on creation of a coupe Aston Martin Vulcan. The car has a curb weight of 1350 kg, despite the fact that in its engine compartment there is a powerful engine 7.0 V12, with is able to generate about 820 horsepower. The coupe can accelerate from zero to hundreds in about three seconds.
The car is exhibited at the Nürburgring test center and as most of you know – this model is a kind of response of the Aston Martin company to such supercars as Ferrari FXX K and McLaren P1 GRT. However, unlike them, Vulcan is "old fashioned" car, which doesn't use in its arsenal no hybrid technologies or improvements with the help of electronics. Actually it's normal when the power unit is presented by 7.0-liter V12 naturally aspirated engine demonstrating a great opportunity to give out more than 800 hp (596 kW).
The vehicle can boasts of a six-speed Xtrac gearbox and Brembo brake discs of carbon fiber which are used in F1.
As expected from such a "beast", Vulcan accelerates from 0-60 miles / h (0-96 km / h) in less than 3 seconds and a top speed is 200 miles per hour (322 km / h). Aston Martin Vulcan is the most exciting car to date; it will be released in limited edition of 24 units. The cost of one of these cars is $ 2.8 million.