Sports
Aston Martin Vantage V8 and V12 With Budget Price
New Aston Martin Vantage V8 will receive V8 engine from Mercedes-AMG
Aston Martin started intensive work on a new supercar Vantage. The car appeared for the first time on the roads and photo spies managed to shoot it on video. The car was running near the Nürburgring. The latest news say that the novelty will receive a V8 engine from Mercedes-AMG.
It should be noted that Aston Martin Vantage is a budget version. The novelty will be based on the shortened platform of DB11 Coupe car supplied by a front double wishbone suspension and five-wishbone one at rear. The external panels as well as the rigid space frame will be made of aluminum material.
The power plant of the novelty includes a transaxle scheme with a rear-wheel drive system. The transmission will be presented by six-step mechanics or double-clutched seven-band automatic. The carmakers will also install AMG V8 4.0 engine with a direct fuel injection and two turbochargers within front wheelbase. As a result, the standard Vantage version will generate around 400 horsepower while S modification's output will make 460 forces. In addition, according to rumors the motor range can be added by derated 5.2 V12 motor from DB11 model.
Aston Martin Vantage GT12 has got a tuning version
An idea to modify Aston Martin Vantage GT12 belongs to Wheelsandmore tuning studio. Nowadays, GT12 is a rare car because it has only 100 copies launched and sold all over the world. The tuners have worked on the external appearance. As a result, the stock GT12 model has a set of F.I.W.E forged multiple-piece wheels with a matt black finish. Each of four corners is designed by 10.5 × 20 wheel covered by Dunlop Sportmaxx GT tires.
One hundred Vantage GT12 copies are equipped by a modified 5.9-liter V12 engine with an increased power capacity (592-hp and 625 Nm of torque). For comparison, the powerful Aston Martin V12 Vantage S generates 565 hp and 620 Nm. The carmakers added new air intakes, an exhaust system made of titanium and an improved geometry that let to reach these levels. In addition, the light magnesium used for the torque tube reduced a weight by 19 kg.
Vantage GT12 tuning version takes 3.5 seconds for getting 96 km/h speed that is faster on 0.2 seconds than Vantage V12 S needs. However, there are some disadvantages such as the additional elements generating downforce, influenced the top speed. It is only 297 km/h. 7-speed transmission has got some improvements.
Aston Martin the most powerful version of Vantage Coupe
The company Aston Martin introduced the "most powerful and uncompromising" modification of the model called Vantage GT3. Public premiere of a novelty that has adopted the technology factory racing team of the British brand.
Aston Martin Vantage GT3 equipped with six-liter aspirated V12, which returns increased from 573 horsepower and 620 Nm of torque to 600 hp and 625 Nm. The motor is combined with a seven "robot" Graziano. Novelty can gain first "hundred" in 3.7 seconds (0.2 seconds faster than the V12 Vantage S), and its maximum speed was 297 kilometers per hour.
The design of the supercar has a wide application of light elements. In particular, Vantage GT3 got carbon fiber hood and front fenders, and a lightweight racing lithium-ion battery. Weight news was 1565 pounds, which is 100 pounds lighter version V12 Vantage S.
The coupe has got an aerodynamic body kit, including a new carbon fiber front splitter, rear diffuser and a massive rear wing. In addition, the novelty has received increased lateral "skirts" and advanced air intakes.
Optionally a machine, in particular, can be ordered carboxylic roof and door trim, and a polycarbonate rear window.
2018 Aston Martin Vantage with a Mercedes-AMG motor
The Aston Martin Vantage of the new generation is attractive, bright and stylish, charismatic and dynamic. The front part of the body is designed by a large grille, located on a large bumper with bright aerodynamic carbon elements, neat LED headlamps and a solid hood with a powerful relief.
The sides of the two door British coupe looks like a sports car with a powerful engine. This is about an elongated hood, strong slope of the windshield, an ideal roof, flowing to the stern with lush forms of wings, miniature side windows, huge wheel arches. The alloy wheels in 20-inch size are standard; 20-inch forged wheels are optional. In both cases, the Pirelli P Zero tires are 255/40 R20 on the front axle and 295/35 R20 on the rear axle.
The interior of the novelty is two-seat; the trunk's capacity makes 350 liters; finishing materials are of the highest quality (natural leather, carbon, aluminum). The technical equipment includes a multifunctional digital instrument panel, sports multifunction steering wheel, multimedia with 8-inch screen, dual-zone climate control, and sports seats with electric adjustment, heating and cooling, parking sensors, rear view camera, fully LED lights and rear parking lights. The most attractive element is the original architecture of the front panel and the center console. At the top in the center there is a screen of a multimedia system. On the horizontal surface of the central tunnel there is installed a massive joystick that controls the multimedia complex.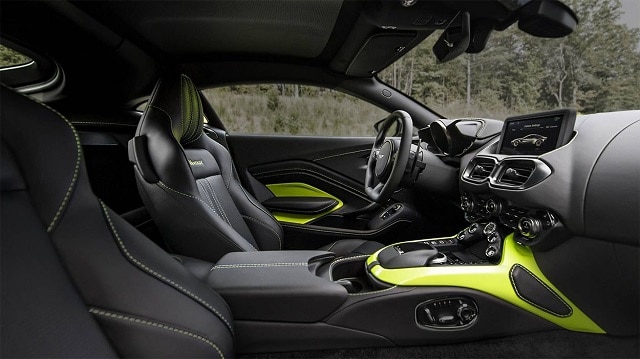 The novelty is based on the aluminum platform from the older Aston Martin DB11 model. Suspension of all wheels is independent, brakes are with cast-iron discs, drive system is only rear, shock absorbers are supplied by electronic control.
In the engine compartment there is located 4.0-liter V8 Mercedes-AMG turbocharged engine (510 hp 685 Nm) and 8-step automatic transmission. The British sports car accelerates from 0 to 100 km / h in 3.7 seconds and is able to reach a maximum speed of 314 km / h.